Synterex is excited to welcome Natasha and Taylor, who were accepted into our medical writing fellowship program in January 2023. Read our interview below to get to know them and their experience so far.
What is your educational background?
Natasha: I have a BS in Chemistry from Hampton University, an MA in Teaching from National Louis University, an MS in Biotechnology from Rush University Medical Center, and a PhD in Integrated Biomedical Sciences (Concentration: Immunology) from Rush University Medical Center.
Taylor: My higher education journey began at Iowa State University. For my Bachelor of Science, I studied Animal Science Pre-Veterinary Medicine with a minor in Microbiology. I continued on at Iowa State University to pursue my PhD, co-majoring in Microbiology and Immunobiology. My PI's research lab was located at the USDA National Animal Disease Center where I studied the immunomodulatory effects of vitamin D3 in dairy cattle naturally infected with Mycobacterium avium subspecies paratuberculosis (Johne's disease).
What made you interested in regulatory writing?
Natasha: I have always wanted to ensure that my work has an impact on patients, to ultimately help better their lives. This is what originally drew me to translational research, but I also realized that my education/teaching experience helps me to translate science to different audiences well. This led me to explore all the facets of medical writing as a possible career.
Taylor: While I liked being in the lab running assays, I also thoroughly enjoyed collating data and ideas to construct scientific narratives. My interest in clinical research developed from two experiences: (1) having previously participated in clinical trials and (2) observing a relationship between vitamin D3 and disease state in my doctoral research project, piquing my interest in any therapeutic effects vitamin D3 may have in this context. Marrying my interests of scientific writing and clinical research is what led me to regulatory writing.
How did you find out about Synterex's medical writing fellowship?
Natasha: After applying to a few medical writing positions and making it to the interview stage, I realized that I was not adequately prepared. My PhD program focused more heavily on academic writing, and I realized that I needed to find a way to gain some training within the field. I researched fellowships and workshops. There are few fellowships available, Synterex being one. I reached out to the company to ask for more information and sent along my CV just in case.
Taylor: Networking through my graduate program cohort and LinkedIn was how I discovered and explored the medical writing industry. I found regulatory writing training opportunities for recent graduates to be few and far between. As a result, I didn't learn about fellowships until connecting with recent graduates who had already entered fellowship programs. After receiving great feedback from Synterex's current fellow, Katelyn, I submitted my application and was selected to join the team.
What do you hope to gain from your fellowship?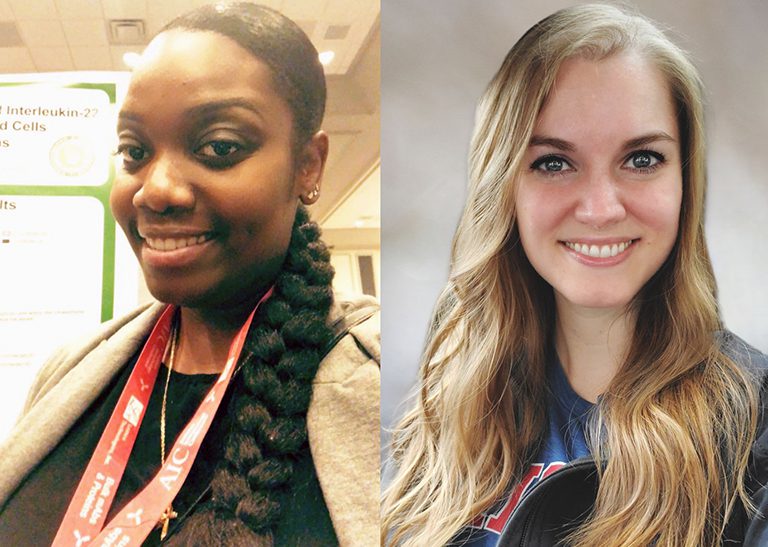 Natasha: I hope to gain a greater understanding of how to properly compose regulatory documents for clinical trials. I also hope to learn as much as possible from all of the staff members. It's an opportunity to gain invaluable experience within the field.
Taylor: I look forward to acquiring the necessary skills to grow and excel in my role. Learning aspects of medical writing project management and business operations is also important to me. Additionally, I hope to become a resource for my colleagues as I gain experience. I am thrilled to begin my medical writing career at Synterex!
What are your hobbies/interests outside of writing?
Natasha: Outside of writing, I am an avid puzzle solver and love to watch movies of all genres. I enjoy spending time with my 2-year-old daughter, Nova, and watching her learn and develop more and more each day. I also still help high school students understand/ gain an appreciation for science via tutoring and mentoring.
Taylor: I have a green thumb and a love for being in nature. Indoors, I enjoy growing succulents. Outdoors, my husband and I are experimenting with regenerative agriculture and permaculture practices in our garden.
Thank you, Natasha and Taylor! We are delighted to have you on the team.
Find out more about Synterex's medical writing fellowship opportunities.