Business skills matter. Download this poster, presented by Synterex at the 2022 American Medical Writers Association (AMWA) conference, or scroll down for a text-only version.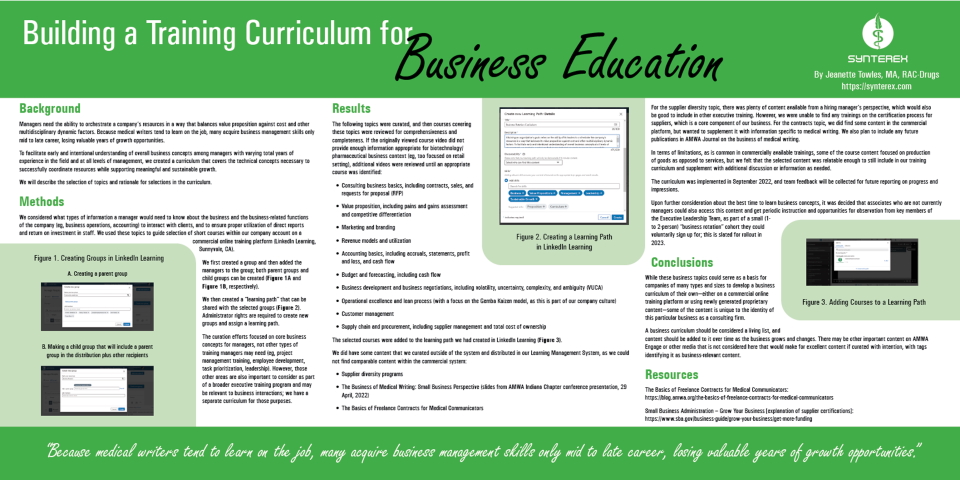 Background
Managers need the ability to orchestrate a company's resources in a way that balances value proposition against cost and other multidisciplinary dynamic factors. Because medical writers tend to learn on the job, many acquire business skills only mid to late career, losing valuable years of growth opportunities.
To facilitate early and intentional understanding of overall business concepts among managers with varying total years of experience in the field and at all levels of management, we created a business curriculum that covers the technical concepts necessary to successfully coordinate resources while supporting meaningful and sustainable growth.
We will describe the selection of topics and rationale for selections in the business curriculum.
Methods
We considered what types of information a manager would need to know about the business and the business-related functions of the company (eg, business operations, accounting) to interact with clients, and to ensure proper utilization of direct reports and return on investment in staff. These topics guided selection of short courses within our company account on a commercial online training platform (LinkedIn Learning, Sunnyvale, CA).
First, we created a group and then added the managers to the group. Both parent groups and child groups can be created (see Figure 1A and Figure 1B, respectively, in the downloadable PDF linked above).
Then, we created a "learning path" to share with the selected groups (see Figure 2 in the downloadable PDF linked above). Administrator rights are necessary to create new groups and assign a learning path.
The curation efforts focused on core business concepts for managers, not other types of training managers may need (eg, project management training, employee development, task prioritization, leadership). However, those other areas are also important to consider as part of a broader executive training program and may be relevant to business interactions; we have a separate curriculum for those purposes.
Results
Initial topics
Synterex curated the following topics, then reviewed courses covering these topics for comprehensiveness and completeness. If the originally viewed course video did not provide enough information appropriate for biotechnology/pharmaceutical business context (eg, too focused on retail setting), we reviewed additional videos until an appropriate course was identified:
Consulting business basics, including contracts, sales, and requests for proposal (RFP)
Value proposition, including pains and gains assessment and competitive differentiation
Marketing and branding
Revenue models and utilization
Accounting basics, including accruals, statements, profit and loss, and cash flow
Budget and forecasting, including cash flow
Business development and business negotiations, including volatility, uncertainty, complexity, and ambiguity (VUCA)
Operational excellence and lean process. We focused on the Gemba Kaizen model, as this is part of our company culture.
Customer management
Supply chain and procurement, including supplier management and total cost of ownership
The selected courses were added to the learning path we had created in LinkedIn Learning. See Figure 3 in the downloadable PDF linked above.
Additional content
We did have some content that we curated outside of the system. We added this to our Learning Management System as we could not find comparable content within the commercial system:
Supplier diversity programs
The Business of Medical Writing: Small Business Perspective (slides from AMWA Indiana Chapter conference presentation, 29 April, 2022)
The Basics of Freelance Contracts for Medical Communicators
For the supplier diversity topic, there was plenty of content available from a hiring manager's perspective, which would also be good to include in other executive training. However, we were unable to find any trainings on the certification process for suppliers. That topic is a core component of our business. For the contracts topic, we did find some content in the commercial platform, but wanted to supplement it with information specific to medical writing. We also plan to include any future publications in AMWA Journal on the business of medical writing.
In terms of limitations, some of the course content focused on production of goods as opposed to services. This is common in commercially available trainings. But we felt that the selected content was relatable enough to still include in our business curriculum. We supplement it with additional discussion or information as needed.
We implemented the curriculum in September 2022, and will collect team feedback for future reporting on progress and impressions.
Upon further consideration, we decided that associates who are not currently managers could also access this content. They can get periodic instruction and opportunities for observation from key members of the Executive Leadership Team. This will happen as part of a small (1- to 2-person) "business rotation" cohort they can voluntarily sign up for. This is slated for rollout in 2023.
Conclusions
These topics could serve as a basis for companies of many types and sizes to develop a business curriculum of their own. This could be done either on a commercial online training platform or using newly generated proprietary content. However, some of the content is unique to the identity of this particular business as a consulting firm.
A business curriculum is a living list. You should add content to it over time as the business grows and changes. There may be other important content on AMWA Engage or other media that would be excellent if curated with intention, with tags identifying it as business-relevant content.
Resources
The Basics of Freelance Contracts for Medical Communicators:
https://blog.amwa.org/the-basics-of-freelance-contracts-for-medical-communicators
Small Business Administration – Grow Your Business [explanation of supplier certifications]:
https://www.sba.gov/business-guide/grow-your-business/get-more-funding